Did you know...many of these same stations are available on an internet radio? In order to use an internet radio, you'll need a broadband connection and a wi-fi router. The cost of internet radios have come down considerably in the last couple of years. Originally, these went for around $300+, but now a good internet radio can be purchased for $100-$150. I own two of them here at home...one of these I hook to my stereo and the other one functions as a radio/clock radio. The setup isn't as difficult as you might think. Although I know a little bit about computers, I am not computer-savvy by any means. I was concerned when I bought my first internet radio about a year and half ago, that it was going to be a nightmare setting up to my wi-fi connection. It really wasn't though...and with a few small snags, I was able to hook up the radio and have it playing beautiful music in 15 minutes.

So...you might ask...why bother buying an internet radio, when one can just listen to an internet stream via a computer? Here's why:



It isn't necessary to even turn your computer on for the radio to operate. Many times I will have my computer off and turning on the radio is just a matter of hitting the "on" switch on the radio.



Less Buffering. Ever try listening to an online stream and it has to buffer...and rebuffer...and rebuffer every few minutes? With an internet radio, the buffering is almost completely eliminated and most streams will initially connect within 1-2 seconds. Internet radio, of course, is like anything else in the fact that it's not perfect, and the radio will eventually rebuffer at some point. Sometimes it's due to your connection, or maybe the stream you are listening to is experiencing problems. However, the buffering is almost non-existent. I might experience buffering once a month and when it happens, the radio will reconnect to the stream within a second or two...not the 30+ seconds that you would expect when a stream in rebuffering on your computer.



All your stations are kept in a folder on an online database. You can add/delete stations on the site, or the radio itself, and it will update the other in real time. It's also possible to add your own personal streams for stations which might not be in the database.



Internet radios are portable, so you can move them room to room if you like. Or...just hook it up to your stereo or surround sound system for an even better sound.



Most internet radios come with at least 5-10 presets. So...you can save your favorite stations in the presets, and once they're in, it's just like using the presets on your car radio. All your favorite stations are just a "button away".


These are just a few of the advantages of owning an internet radio. Once you begin listening to an internet radio and are no longer tethered down to a computer, you will really be able to enjoy beautiful music just like you did years ago on AM and FM radio. The music is still there for us to enjoy...it's just being sent primarily via the internet.

This is the model I use in my bedroom as a clock radio. It's the basic Grace model, and the radio works great! They have excellent customer service, too, so if you do need help setting up your radio. These can be ordered through amazon for around $115. The price will flucutate...sometimes they are slightly more, and other times less.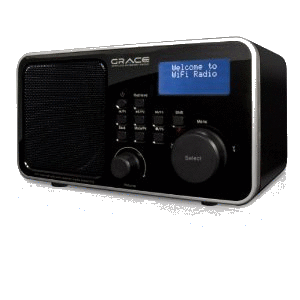 Grace Internet Radio IR-1000
Home | Online Stations | Format History | Wi-Fi Radio |
Programs | Airchecks | Podcasts | Links | Contact |